This week we have a guest blog post from my Occupational Therapy student Abbie who has been joining the course online each week. Abbie chose the beautiful story of Tom's Midnight Garden by Phillipa Pearce for her extract. This is a book written for children that I only discovered as an adult, I still enjoyed it just as much as if I had read it when younger. It tells a magical tale of Tom who is sent to live with his Aunt in a block of flats which have been converted from an old building. Every night at midnight something magical happens and Tom is transported back in time and is able to visit the garden that once belonged to the grand house before it was demolished to make way for the town. If you haven't read this book I strongly recommend it!
Abbie is also a keen photographer, the first six images on the blog this week are all taken by Abbie to compliment the course.
Task 1: (5 mins)
Describe what a garden is to you and what you do in your own garden? (If you don't have one think of somewhere local to you like a park or say what you would do if you could have one) is your garden big? Do you play with a pet maybe? Maybe you sit and enjoy sunsets? How do you feel out there? 
Task 2: (5 mins)
Describe what your garden looks, smells and sounds like in a few lines talking about what is in it. What flowers? What trees? Do you grow fruit? (if you don't have a garden of your own, choose somewhere local to you, like a park). 
Task 3: (10 mins)
In the extract we looked at from Tom's Midnight Garden, the book described what Tom wanted to do in this garden the second he saw it. 
What would you do in a garden you discovered only appeared at night? How would it change your interactions?
Task 4: (5 mins) Describe using all 5 senses what your dream garden would be? Would it be big or small? Would you have lots of trees or just a select few?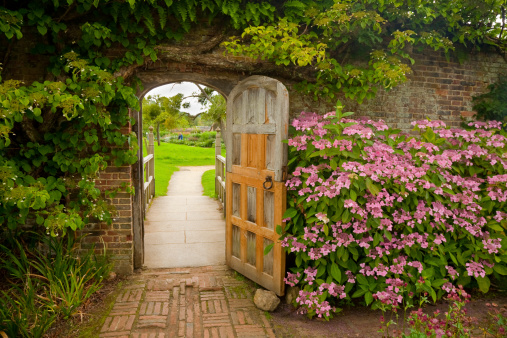 I hope you enjoyed these lovely tasks written by Abbie. My favourite gardens are walled gardens with beds full of fragrant flowers and areas for growing vegetables and fruits. I hope to hear about yours.
See you next week.
Best wishes,
Emma
Central two images of a tree under moonlight and a garden doorway from Pixabay.